We are impacting lives in Orange County everyday with the generous support of donors.
Clinical research gives our patients early access to new lifesaving options
The speed of change in medicine is breathtaking. The best way to keep up with the pace is to be part of the process. With the support of our generous community, we've built a strong and sustainable clinical research program at Providence St. Joseph Hospital.
Nearly 150 clinical trials are underway at Providence St. Joseph Hospital Center for Clinical Research in various therapeutic areas, including cancer, heart and vascular disease, orthopedic issues, diabetes and renal disease. Clinical trials look at new ways to prevent, detect or treat disease. Treatments might be new drugs or new combinations of drugs, new surgical procedures and devices or new ways to use existing treatments.
"Our clinical research not only supports our culture of innovation and best practices, but it allows us to offer patients early access to potentially groundbreaking therapies," says Providence St. Joseph Hospital interventional radiologist Mahmood Razavi, M.D. "By participating in clinical trials, we hope to provide better outcomes for our current and future patients."
The promise of clinical trials
Advances in prevention, detection and treatment are the direct result of clinical trials. When it comes to participating in clinical trials, we are one of the most active community hospitals. Providence St. Joseph was on the leading edge of testing new immunotherapy drugs that are changing the future of care and have already saved the lives of patients in our community.
Our heart and vascular physicians participate in several clinical trials that are changing how we approach cardiovascular care. "Our cardiology research is robust," says Joscelyn Green, R.N., MSN, OCN, cancer and cardiology and vascular research manager. "We have people coming into the emergency department with conditions that fit well with current studies such as our trial on pulmonary embolisms."
As part of the Providence Research Network, Providence St. Joseph researchers have access to the entire system's knowledge bank and opportunities to collaborate. "There's enormous sense of community and camaraderie among researchers in the Providence Research Network," says Joscelyn. "Research leaders meet monthly to share information, improve processes and work out challenges. We support each other because we want people to get the highest standard of care throughout Providence."
Partnering in miracles
Sometimes the breakthroughs discovered in clinical trials cure or arrest disease, and sometimes they give someone a little more precious time with loved ones.
"We are not doing research for the glory of the hospital," says Joscelyn. "This is about our community and giving everyone in need access to medical advances. I'm so grateful to our donors who support us in sustaining and expanding our research. This is truly an age of discovery, and our donors are partnering with us to bring it home to our community."
Philanthropy plays an essential role in supporting oncology and cardiovascular research. Donor support helps pay for staffing development by creating more opportunities for clinical education, laboratory upgrades and acquiring tools and resources needed for research.
If you want to learn more about how you can help, contact the Foundation at 714-347-7900 or email sjofoundation@providence.org.
At age 97, Bernie was diagnosed with neuroendocrine cancer, which had spread throughout his body.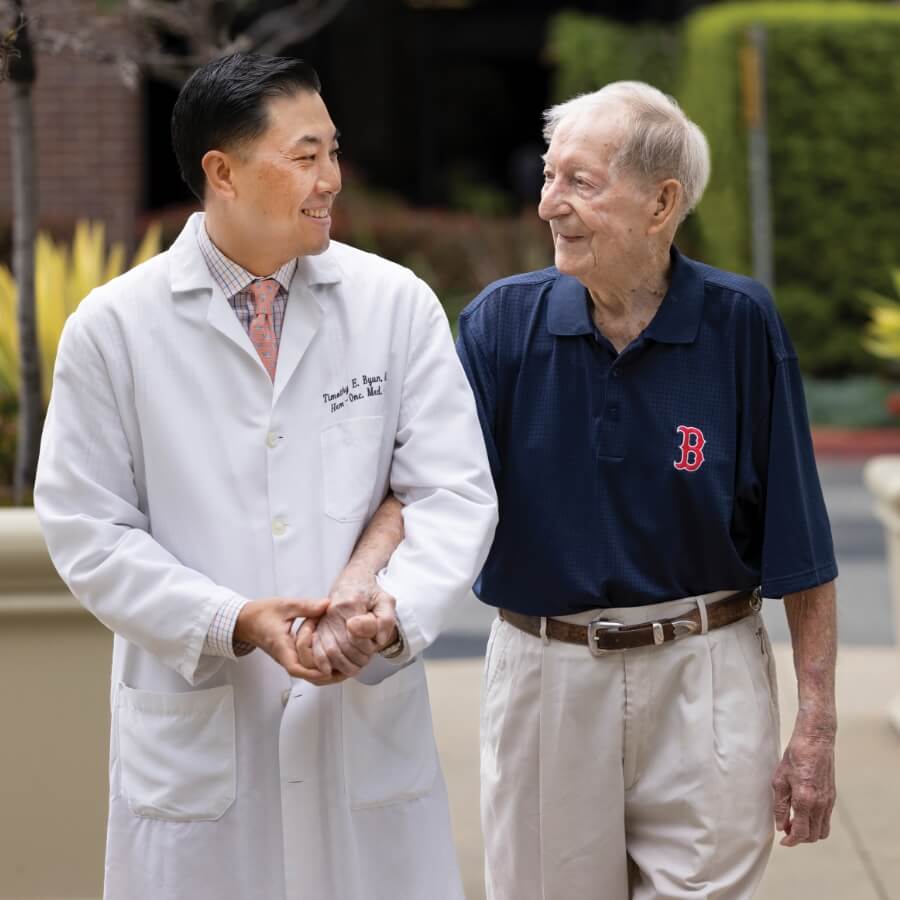 At age 97, Bernie was diagnosed with neuroendocrine cancer, which had spread throughout his body.
Together, we can provide care that transforms lives, now and for years to come.